Speaker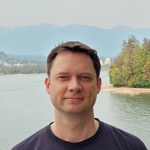 Dave O'Connor
(he/him)
Senior Python Developer
Six Feet Up
Dave O'Connor
Dave is a senior Python developer at Six Feet Up with more than 18 years of professional experience working for consultancies, agencies, and product companies in Europe and in North America. 
Dave specializes in both front and back-end development. He enjoys learning new technologies and discovering new methods for solving problems. His favorite technologies at the moment include Tartiflette GraphQL, Apollo, and React. 
Dave lives in Vancouver, Canada. Outside of work, you can find Dave enjoying the outdoors — hiking, snowshoeing and more.